While on my quest to find a chemical free way to keep my house clean, I was sent a product that claims to reduce the use of household chemicals by up to 90%! I was looking for something that I could use for general cleaning without having to get out the big guns (chemicals) every time I needed to wipe down a counter. All you need to use is water to clean just about any surface.
e-cloth has been proven to remove over 99% of bacteria from hard surfaces, it doesn't kill the bacteria, it collects the bacteria from surfaces. This microfiber cloth has 3.1 million fibers per inch, the best cloths on the market only have up to 200,000 fibers per inch. These fibers make a huge difference. I can't speak to the bacteria removal but I know a thing or two about cleaning and I really like the way this cleans and polishes.
The cloth that I received is the High Performance Dusting & Cleaning Cloth which retails for $7.99. I used just water and the e-cloth cleaning cloth to clean my kitchen cabinets. The dust and finger prints were easily washed away but I was very impressed with the way this cloth cleaned the cabinets around my stove. These are always the grimiest cabinet due to the spatter from the stove. The e-cloth was able to cut through the grease and clean the grime away. I was very happy with the results and so glad I was able to accomplish this usually messy job so easily using just water.
In the end I was very impressed with the e-cloth for this type of cleaning job. To be honest, I don't think I would depend on the e-cloth to remove bacteria with out the help of an anti-bacterial cleaner when needed but for those general cleaning jobs around the house, this cloth can't be beat. An added bonus is after tossing this cloth in the washer and dryer, I used it to clean my smudged eye glasses!
There are so many different cloths to choose from for many different jobs around the house. Be sure to check out the e-cloth website at www.ecloth.com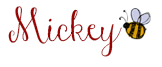 1