We have all done the dump. You know, when you lost something in the black vortex that is your purse and you have no choice but to turn your bag upside down and DUMP everything out. We all carry so many essentials in our purses that keeping everything organized can be a challenge. I have found that storing all my take along items in designated zippered pouches has completely solved the need to DUMP!
I have the contents of my purse separated into 4 different zippered pouches. These pouches are essentially different sized cosmetic cases that can be found in any store.
I have a case for my sunglasses, my wallet, personal care items and my emergency kit.
I do not carry a traditional wallet. I like to have my wallet items organized in a very specific way (big surprise).
I like to separate my change, cash and credit cards/ID into separate pouches. This is a system that has worked for me for years. I always know where to find what I need.
I never carried cosmetic items with me until recently. As I have gotten older I have found that I like to have a few items with me to touch up my make-up throughout the day. I always carry some lip products, hairspray, blush, a mirrored compact and this retractable Elf brush.
Probably my most important bag that I carry with me is my Emergency Kit/Mom Survival Kit. This is a "kit" that I have put together over the years of all those essential items that I need to carry with me to give myself the sense of being prepared for whatever comes my way. Must be a Boy Scout influence. I think everyone should put a kit like this together and carry it with them daily.
In side I carry band-aids, hand sanitizer, lotion, meds, nail file, small toothbrush, deodorant, chapstick, sewing kit etc. I can't tell you how many times this kit has saved me over the years. You can find most of the items in the dollar spot section at Target, travel section or at the Dollar Tree.
I give more details and tips on Purse Organization on my YouTube channel video:
Thank you for visiting and I hope you found some of these ideas helpful. Having a well organized purse is a small way to help you get through your day, and isn't the small things that make the most difference?
Please take a minute to SUBSCRIBE to my YouTube channel and my blog so you will not miss what we are up to next.
Love Your Life,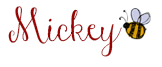 11