Monday is the big day when I introduce The Elf on the Shelf to my preschool class! In this video I share with you how I wrap it up and reveal our elf friend to my class. This is such a cute idea and can easily be done for your little ones at home. The idea is to make the package look as if it has traveled all the way from the North Pole. Once I get to school in the morning I will put it in the school freezer to get it nice and cold, it came from the North Pole you know! I will have someone radio our classroom to say that we have a special delivery package and the elf magic can begin! Watch the video below to see how you can wrap your own Elf on the Shelf for his big reveal at your house!
Thank you so much for spending some time with me today and don't forget to subscribe! You can subscribe to My Bashful Life YouTube channel by clicking the red button found HERE.
Leave me a comment and let me know what your Elf on the Shelf has been up to at your house or just say Hello!
Love Your Life!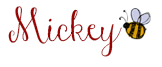 0